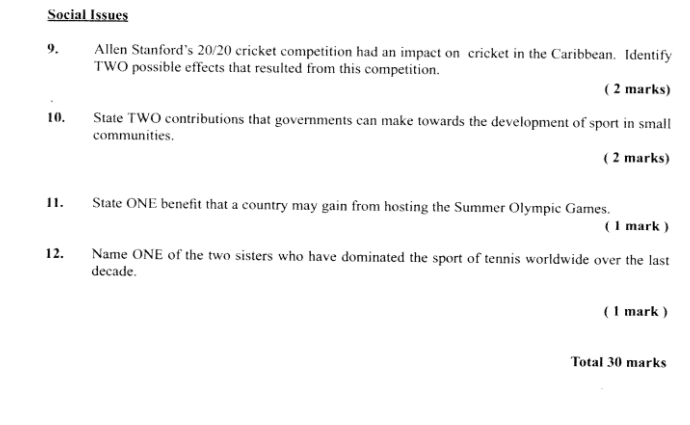 Two possible effects that resulted from Allen Standford's 20/20 Cricket competition were all the citizens of each Caribbean country neglect to support their players to go towards one goal, which can break the unity between Caribbean countries. Also, the Caribbean gained recognition for their cricket skills by the entire world through competition.
Two contributions the government can make towards the development of sports in small communities are to provide facilities in that area so that people who reside in that area can do or enjoy a sport. Secondly, the government can host sporting games in small communities which will attract spectators also, it will make people become more interested in the sports due to their desire to win or see their preferable team win.
One benefit a country may gain from hosting the Summer Olympic Games is recognition from other countries which will increase the number of tourists that visit the particular country and this will also advertise the history and highlights of the particular country
The two sisters who dominate the sports of tennis worldwide for over a decade are Venus Williams and Serena Williams.